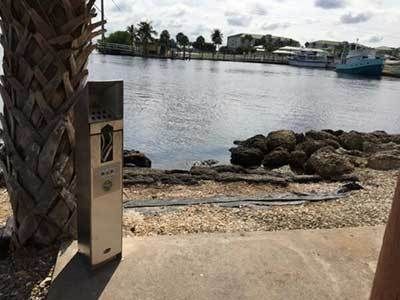 Cigarette Litter Prevention Program
The Keep America Beautiful Cigarette Litter Prevention Program (CLPP), now in its 19th year, is the nation's largest program aimed at reducing cigarette litter. Since its inception, the program has been implemented in more than 1,800 U.S. communities.
By providing people with easily accessible information and educational tools, as well as funding for ash receptacles and the distribution of pocket or portable ashtrays, Keep America Beautiful is making strides in educating the public and ensuring a cleaner tomorrow. 
An effective local Cigarette Litter Prevention Program includes four proven, field-tested solutions or strategies for reducing cigarette butt litter:
Encourage enforcement of litter laws, including cigarette litter;
Raise awareness about the issue using public service messages;
Place ash receptacles at transition points such as entrances to public buildings; and
Distribute pocket or portable ashtrays to adult smokers.
Keep America Beautiful developed the CLPP with funding from Philip Morris USA, an Altria company, in 2002. The program has received additional support from RAI Services Company and Santa Fe Natural Tobacco Company.
Keep Charlotte Beautiful has worked with government representatives to install ash receptacles at key areas around the county and has seen an average 55% reduction in cigarette butt litter! Grant funding from the CLPP has provided ash receptacles from Punta Gorda to Englewood Beach.
If you would like to help reduce cigarette litter in Charlotte County, you can help us identify areas needing receptacles, do scans, and hand out pocket ash trays at events. Click here to contact us for more information!
Stand for the Land
KCB has also been a recipient of ash receptacles for county facilities from the Stand for the Land program a Keep America Beautiful Program. 
This year, the receptacles from this program will be placed at Port Charlotte Beach Complex and Oak Point Park to provide smokers with the tools they need to keep butts from being littered.
Events
KCB has portable ash receptacles for events. The goal is to provide convenient disposal areas for cigarette Litter so that cleanup after the event is easier. These butts are recycled with TerraCycle. Volunteers will also attend events and pass out pocket ashtrays to keep the event area clean.