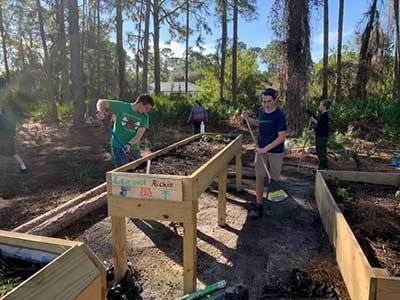 Community & Butterfly Gardens
The Keep Charlotte Beautiful Community Greening Committee works with groups and schools to improve their outdoor spaces by not only keeping them litter-free but also through projects like pollinator gardens or community gardens. These projects improve our environment and make us more resilient, as a community. We have listed not only the community gardens KCB is involved in but all of the Community Gardens in Charlotte County.
Community Gardens
Pollinator Gardens
Hickory Bluff Cemetery Pollinator Garden
Punta Gorda History Park Butterfly Garden
Florida Butterfly Garden CHEC
Cultural Center
Peace River Elementary
Port Charlotte Library
Community Improvement Projects
We are not just about cleaning up the community. We are also here to help your group with projects that improve a public space or care for a neglected one. Please contact us if your group or organization has a project in mind and needs help getting it off the ground
If your neighborhood needs assistance on improvements or a beautification project, click here to contact Keep Charlotte Beautiful or fill out the Mini Grant application below.
Mini Grant Final Report due by May 31,2024. 
---
Final Report must be submitted with at least 3 photos. We love videos too!